All WCSC meetings for the FY2023 will be held IN PERSON.
February Education Opportunities
In-Person Classes, Virtual Training Classes, and Webinars that are being offered with the Ohio BWC Division of Safety and Hygeine.
Click here for details
February 2023 Membership Meeting
Tuesday, February 7, 2023
Wood County Hospital Meeting Rooms
"9-1-1 What You Should Know"
7:30 am – 9:00 am
Speaker: Cpl. Juliann Flage, WC Sheriff's Office
Ohio Safety Congress & Expo 2023
Each morning from 9:30 – 10:45 a.m. EST, in-person and live streamed from the Greater Columbus Convention Center, hear nationally recognized speakers on subjects unique to today's safety and business environment.
Click Here for details
March 2023 Membership Meeting
Tuesday, March 7, 2023
Wood County Hospital Meeting Rooms
"Industrial Commissions Function and Hearing Processes."
7:30 am – 9:00 am
Speaker: Mara Lanzinger Spidel, IC
April 2023 Membership Meeting
Tuesday, May 2, 2023
Wood County Hospital Meeting Rooms
"TBD"
7:30 am – 9:00 am
Speaker: TBD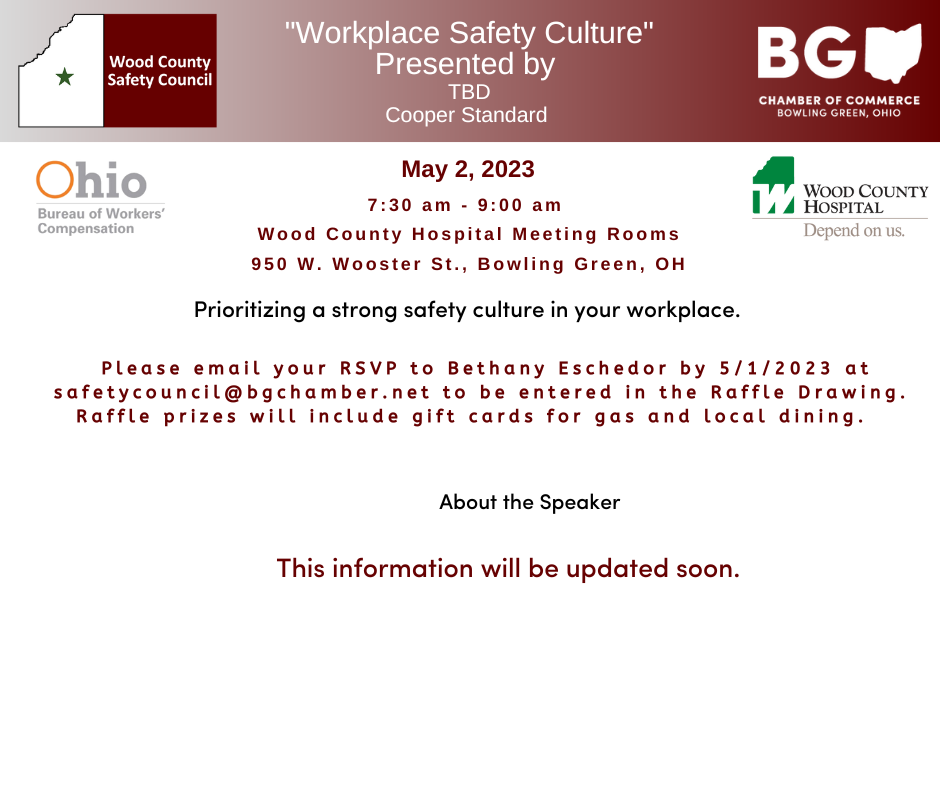 May 2023 Membership Meeting
Tuesday, May 2, 2023
Wood County Hospital Meeting Rooms
"Workplace Safety Culture"
7:30 am – 9:00 am
Speaker: TBD, Cooper Standard
June 2023 Membership Meeting
Tuesday, June 6, 2023
Wood County Hospital Meeting Rooms
"OSHA Recordkeeping"
7:30 am – 9:00 am
Speaker: Rich Barcum, Cardinal Compliance Consultants